New Larger Desk Mats
Work and study from home or anywhere you lay your mat!
So many of you have asked for a larger sized desk mat so I've now added new sizes to the regular range!
See the Desk Mat Sizes here...
If you require a custom size then please contact me.

New Fabric Range
Rich, vibrant and Inspiring! Just what we need in 2020!
I've chosen these beautiful Liberty of London fabrics to bring joy to the pieces that I create for you.
They work beautifully with my leather colour range and I hope you too will enjoy creating your own unique combination from these inspired designs.
I'm currently in the process of updating the website but if you can't wait and would like to include one of these linings in your order then please just send an email or pick up the phone.
*** The fabric range has been added to a number of items - it's still a work in progress to complete the full range.
New Leather colours
Introducing new leather colours to the range. Available for all products so take your pick!
CHAMPAGNE
Beautiful soft, creamy champagne coloured leather.
Works so well with all my thread colours - so hard to choose a favourite.
BUTTERSCOTCH
A new colour in the Analine leather range. So now there's Antique Oak - rich and dark, Cognac - Think beautiful brandy, and now Butterscotch - more buttery yellow. And of course still maintaining the animal marking that tell a story and ages beautifully.
BRITISH GREEN
Think early racing car British Green and you have this rich dark green colour. Has an overall pattern that will maintain its appearance for year. Works beautifully with the Antique Gold Thread on the spine.
SEA BLUE
Deep Sea Blue is the best way I think to describe the colour of this leather.
Overall pattern that will maintain its appearance for years.
Works beautifully with thread colours: Antique Oak, Copper and Royal Blue.
CREATING IN THE TIMES OF THE CORONA VIRUS!
YES - THE STUDIO IS WORKING!!!
While nothing is certain in these extraordinary times, I plan on working as usual for as long as possible. I work alone in the studio - just me and the inspiring view here at Torquay.
And I'm hearing from many of you that while you're isolating, it's providing an ideal opportunity to start that memoir, capture history or begin that Family Journal. And just send an email or give me a ring if you have anything special in mind that you'd like to create.
Stay safe and well everyone!
Beverley
I Made Santa's Diary!
Such a great project to work on.Blog
Read about the Creation here in the Blog.
New Newsletter Subscription Form
I've installed a new Newsletter Subscription Sign Up form on the site. You'll see it on the bottom of the screen. This is in preparation for next year's enhancements that will see Bookseed providing informative and useful ways to help you to 'Treasure Your Story'.
Workshops, books and guides will be published in 2020. So let the learning commence. And of course, please ensure that you sign up to the newsletter to be informed of what's happening.
I value and protect your details as my treasured customer and hence will never sell or pass on your information to anyone. You can also easily unsubscribe at anytime.
Workshops at Bookseed
November Enrollments are now open
Very excited to announce that I'll be running my first class in the new studio during November.
Yes November - so be quick to enrol. More information here.
I'm commencing with four classes - 3 drawing and 1 Calligraphy. All one off workshops for beginners. No art experience necessary - I promise:)
Next year I'm adding Bookbinding, How to tell your Story and Sketchbook classes to the mix.
So even if your not local but are thinking of travelling to the beautiful Torquay area then this could be a really fun thing to do on your trip.
My studio 9 overlooks the beautiful hills at the start of the Great Ocean Road.
And I'd be delighted to welcome you to my studio where we can play and create together!
Green Leather is Back!!!
Yes!!!!! It's back! Who knew that Green Leather was so popular.
Brown is the most popular and Green is the most requested leather colour. And it's been out of my range for over a year... so a long wait.
This Green Leather is different to my original (Chesterfield Green). This is an all over pattern and colour and a lovely very deep Green.
The new BIG BRASS BLOCK has arrived!
I now have a BIGGER BRASS BLOCK for debossing items.
And a bigger brass block means longer words or names!
The Upper and Lower Case shown in the block above will give you an idea of the amount of letters and combinations that I can deboss in one pressing.
So be creative...think BIG or long! My new BIG BRASS BLOCK has you covered :)
Leather Satchels for iPad, Tablets and Notebooks

Beautiful leather satchels to hold iPad pro, tablets or old fashioned notebooks and pens.
Available in the full range of leathers. Go classic with the traditional subtle black lining, or go luxurious with prints from the house of Liberty of London. Or one of the selected designer fabric ranges. Order here...

Beautiful Fabrics to Line Journals, Covers and Book Wraps
The fabrics have been so popular that I've now increased the range and added them to the customer selection of the website. A select range of stunning prints for the house of Liberty of London. Some based upon the timelessly elegant work of William Morris.
And a small range from select group of the World's leading designers. Including local designer Jen Kingwell.
Just add the desired fabric to your cart and your item will be lined with your selection.
Good Luck choosing - they're all so lovely!
See the range: Fabric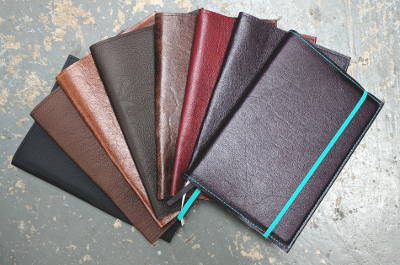 Leuchtturm 1917 and The Official Bullet Journal Leather Covers
Very excited about this latest product. I've created a special reinforced pocket in the back with cutouts that allows full access to the elastic closing strap of these beautiful German made notebooks.
Popular since 1917, they are also the maker of the The Official Bullet Journal which is same size as the classic 1917, so this cover fits both.
After Pay is now Available
After Pay payment services are now available online and in store.
Beautiful Italian Paper
I have great pleasure in welcoming a new paper to my studio. The beautiful Knight paper that is made in Italy. It will now be used in all my journals and is available in 90 and 120gsm weights. I've been trialling this paper over the last few weeks and it's superb.
With the closing of the Shoalhaven paper mill in Australia my regular watermarked paper is now being made overseas and the quality and is no longer up to the standard that I set for my range. This is the first change in paper in 10 years for Bookseed.
There will be a slight changeover period as I amend the wording of the products in the online store but please assume that all new orders will carry the Italian paper going forward.
And it takes inks and fountain pens beautifully!
Leather Desk Mats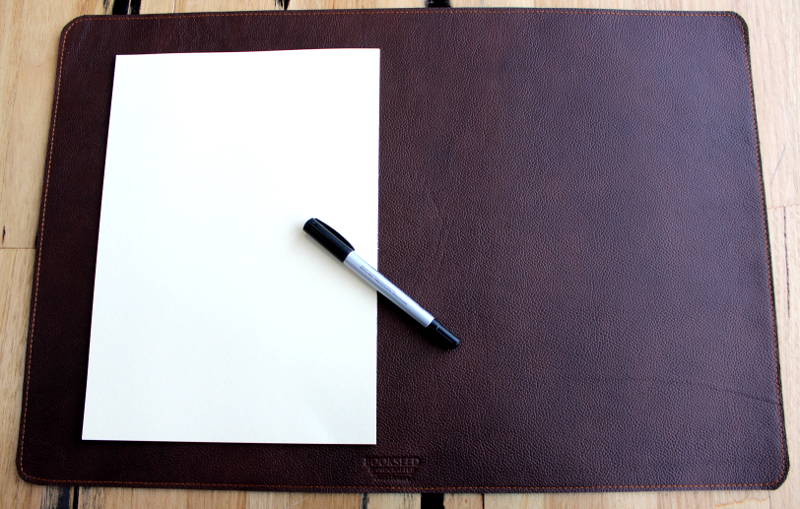 Beautiful Leather Desk Mats are now a part of my regular range. Backed with soft cork that is lined with felt, these desk mats provide a lovely cushioned surface for writing. And a warm soft feel to a sometimes cold desk. Can also be used to hold a keyboard or laptop with the side then creating an ideal mouse mat surface.
Available in the full range of my leathers. Create a uniquely personalised gift by debossing initials or a short name into the desk mat. And for Fathers Day I'm including the debossing on the Desk Mats as my gift!
International Orders Now Online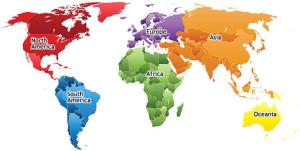 International orders can now be processed online. I've linked in with Australia Post which provides the facility for International postage to be calculated at checkout via the shopping cart. Customers can also choose a variety of postage options. It seems to be working well and is now much easier for my overseas customers to purchase. Welcome to the World of internet shopping!
Accessories Range
I have added the accessories range back to the website but now it has the beautiful designer fabric linings. Just added are Passport and Card Holders. Leather luggage tags will added very soon. Please enjoy choosing your fabric and leather combinations! Begin your designing here...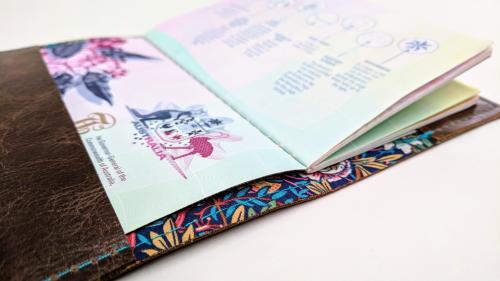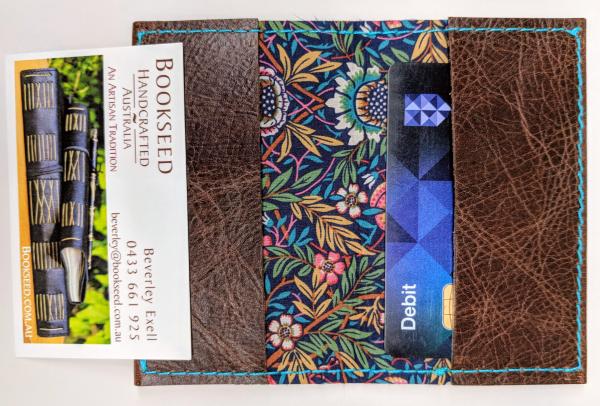 The Designer Collection
I'm very excited to announce the release of my new range which I've titled - THE DESIGNER COLLECTION!
I've been playing with beautiful fabrics and threads and combining with my favourite leathers to give magic to my favourite pieces. Including those talented artists from Liberty of London. And I've chosen prints from leading designers such as Kaffe Fassett, Tula Pink, Kathy Doughty and Sarah Watts.
I'm delighted with the results. And now I'm offering the chance for you to do some designing too!
I'm offering these beautiful fabrics on some of my most popular items and allowing you to choose the leather colour and fabric combinations...Enjoy!
And if you need a hand, please just give me a ring or send me an email. Happy to advise.
Espresso Bean Rich Brown Journals with Wide Strap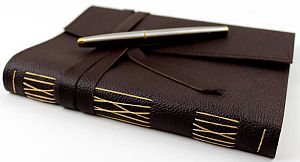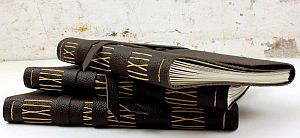 I have now added to the wide strap range with the beautifully rich espresso brown leather.
The MAJESTIC Journals' Public Debut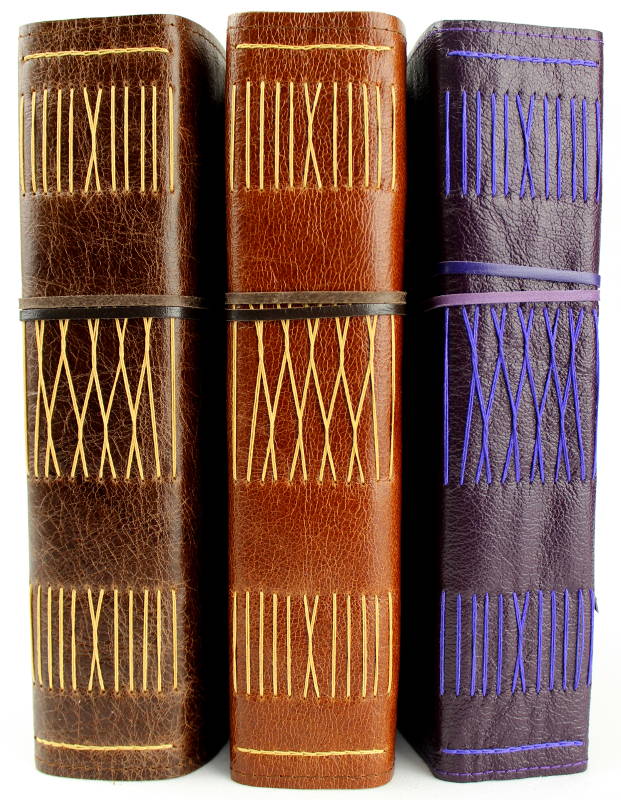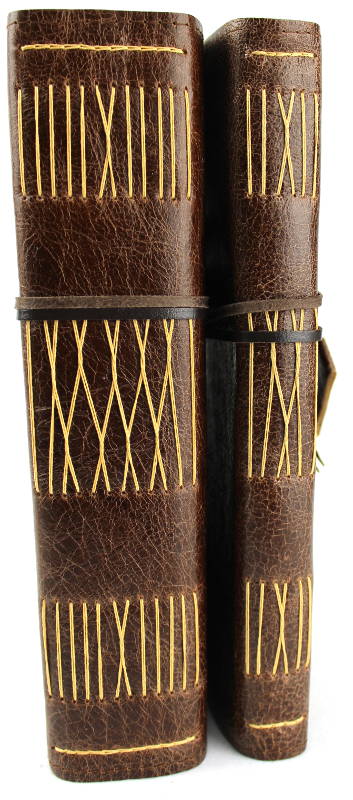 These oversized majestic beauties have been the joy of a few book lovers who order custom made journals... a rather elite group! But they're too good to hide away, so I'm now adding them to the shopping cart for everyone to enjoy. Double the stitching on the spine there are 12 holes and 384 pages - double the regular sized A5 journal. I've included a picture above so that you can get a sense of the impressive stature of these gorgeous journals. I know that some people use my journals as a decorative feature - displaying on antique desks or shelves etc. These are glorious. But of course, also functional. And ideal when you've got a lot to write about! They're $125 (the regular A5 journal is $89). In the shopping cart under Leather Journals A5. Here is the Antique Oak....
Introducing... the NEW Purple
Cue the music, flash the lights, eyes on the catwalk.... and here she comes.... this year's Purple Leather is deep, deep, violet and soft and luscious!
I'm delighted with the latest addition to my regular leather range. It's very, very soft and feels beautiful.
Currently available in A5 journals in three colour combinations: Purple and Red - Purple and Turquoise and Violet Purple !
I will be adding more items to the range such as: Notebook covers and Bookwrap and A4 journal so please email or phone if you would like to order prior to them being available online.
Travel Journals in Ravishing Red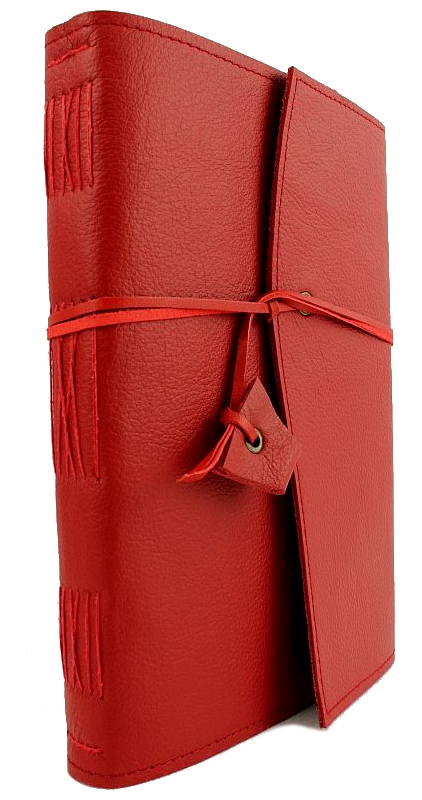 The popular Aussie Travel Journal is now available in the rich ravishing red leather.
This red leather is a perfect traveller - soft and supple but very hardy - ideal backpacker!
See more here > Travel Journal - A5 Red
Pocket Sized Travel Journals - Non Leather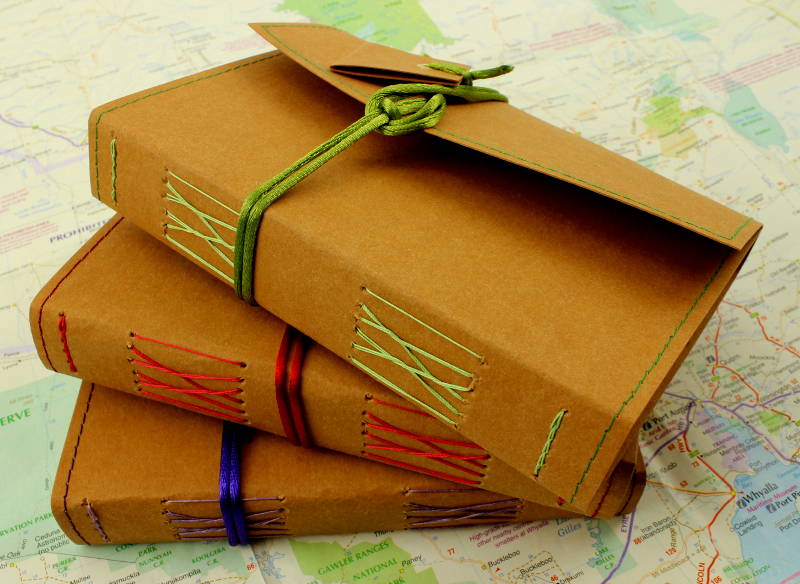 Very excited to announce the release of journals made from NON leather Kraft Paper Fabric.
I've been experimenting with this new product for a couple of months now and I'm very pleased with the results. Soft, flexible but very strong. They even claim it can be washed however, I would NOT ADVISE washing your journals. The paper inside is still the beautiful archival paper and it's not water friendly :)
Ideal for Animal Lovers and those who would prefer not to use Animal products. It's also Vegan Friendly.
And another bonus is that you can draw, paint, sketch, write messages on the outside of the journal. Great way to personalise for yourself, or write messages for a loved one travelling.
Like my other travel journals these now also feature the centre Story Board that is made from the beautiful Italian Drawing Paper.
I will be adding more items to the range as soon as I can but if you would like something from my regular range made with this new Paper Fabric then please just let me know.
Pocket Sized Travel Journals
Featuring the new Story Board Centre
Beautiful Italian Drawing Paper concertina centre... ideal for drawing, mapping, sketching or dreaming!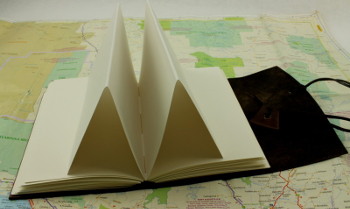 The Story Board Centre in beautiful heavyweight paper hides secretly in the centre ready to expand and reveal.
The new pocket size travel journal (A6) is ideal for tucking into small spaces and taking with you when you're on the go. Will still hold a phone if it's not too large and is available in a range of colours.
Personalise with a title page or monogram the leather cover for a unique gift for a loved one.
Leather Display Folder Covers
Love the feel of these and how quickly they transform the everyday plastic display pocket folder into something beautiful.
Available in a range of leathers, or contact me for your preferences.
See more here... or look under the Leather Stationery Section
Leather Notepad & Sticky Note Covers Return
For lovers of fine stationery!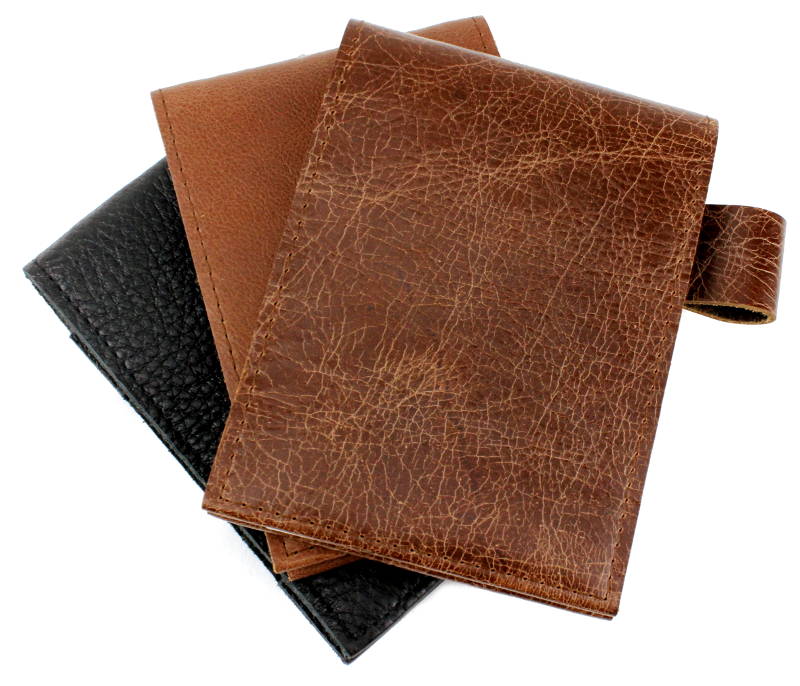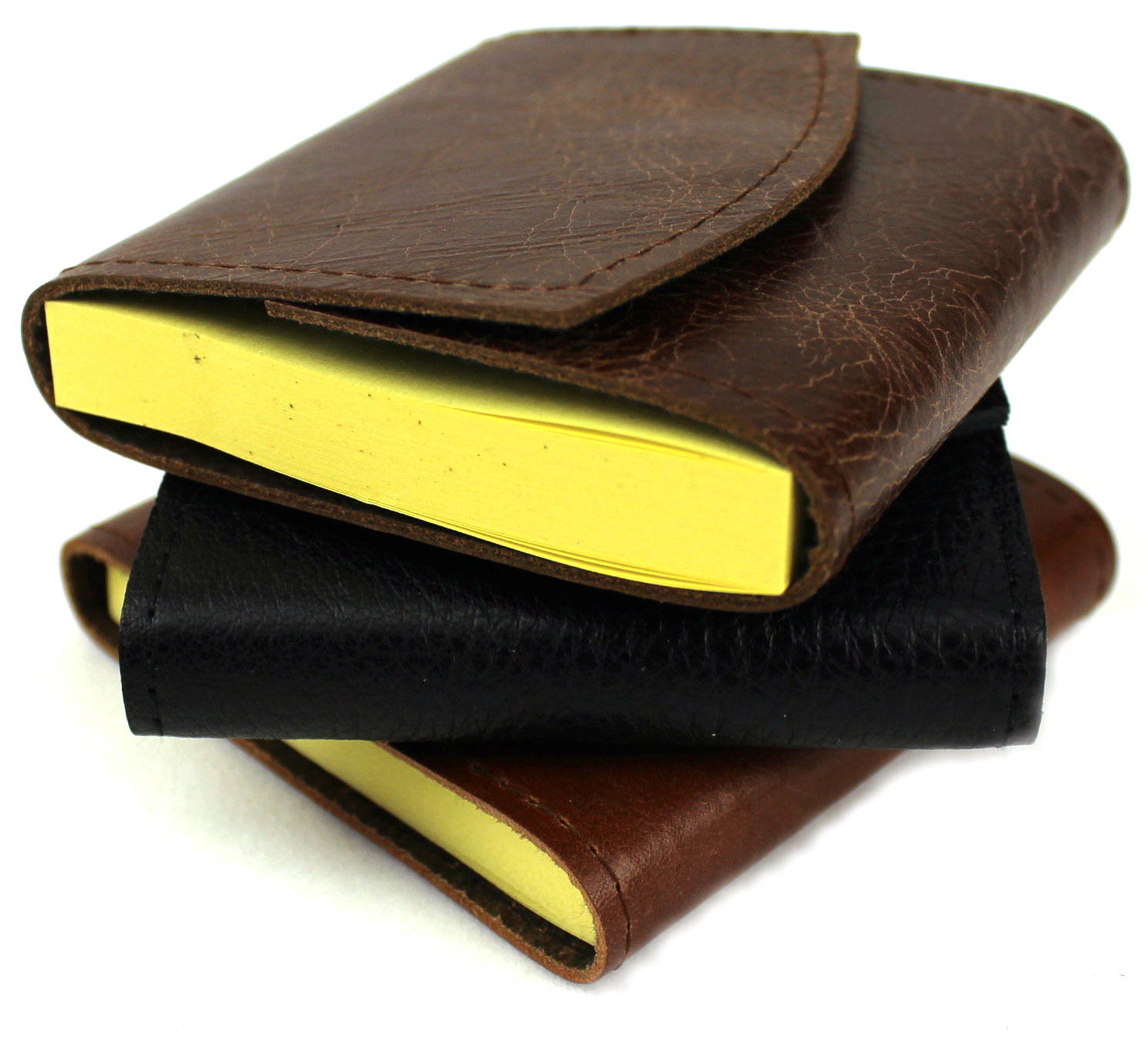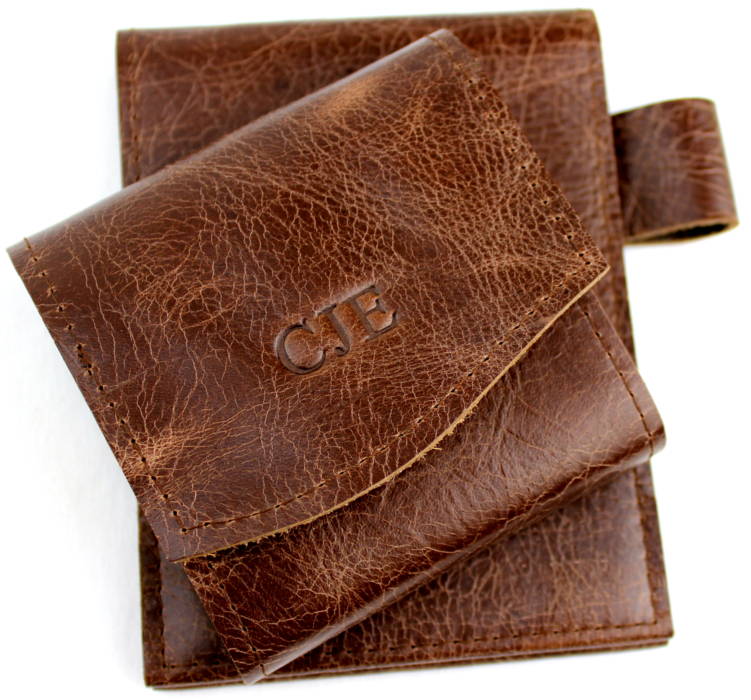 The popular Sticky Note covers are back in stock. And a new addition with the 'Detective Style' Notepad cover.
And I've created a Duo Stationery Set for savings on a monogrammed impression!
Ideal for Fathers Day!
The Book of Dad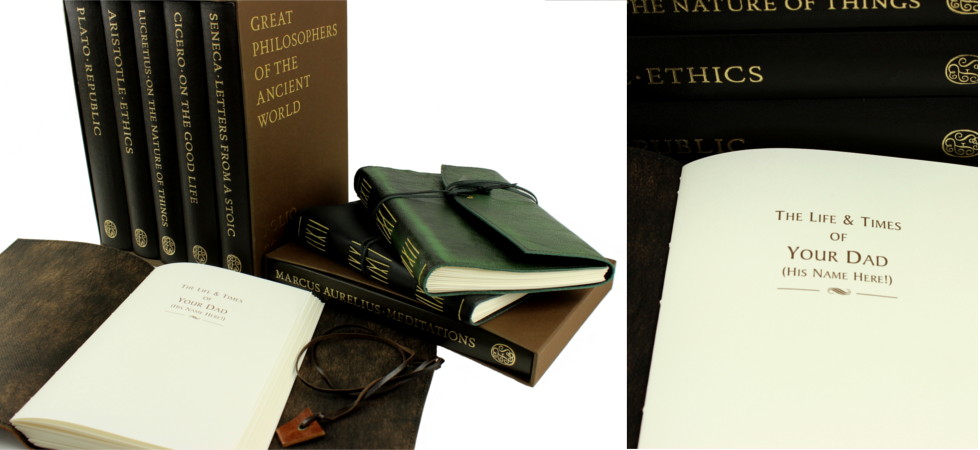 Treasure Dad's Story.
Capture those Pearls of Wit or Wisdom in a handcrafted leather journal. Ideal for Fathers Day. Available in both A4 & A5 sizes.
The Guest Book is Back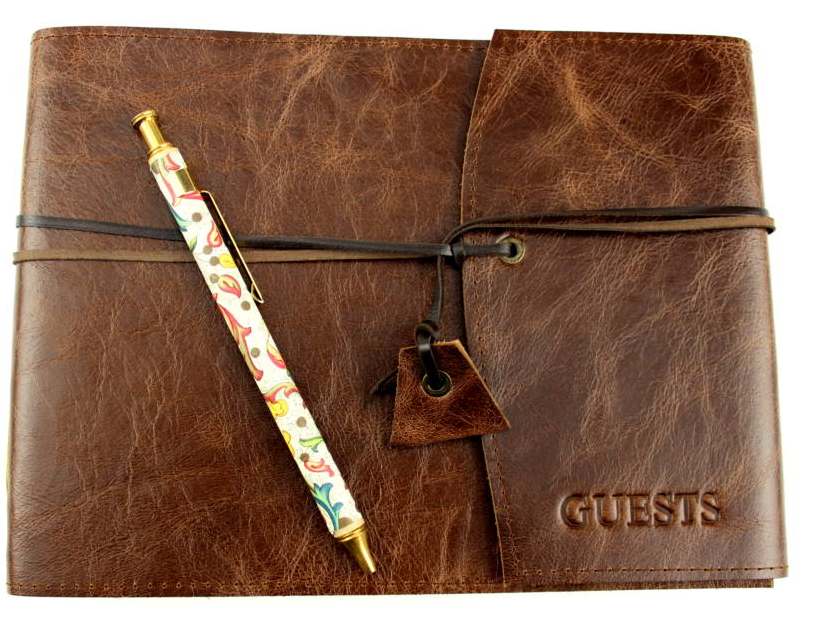 The return of an old favourite. The Guest book is back in both Landscape A5 and Portrait A4 sizes. Available in the full range of colours - (I'm still photographing the range so just ask for your colour in the meantime).
Classic Black & Gold - A Traditional Favourite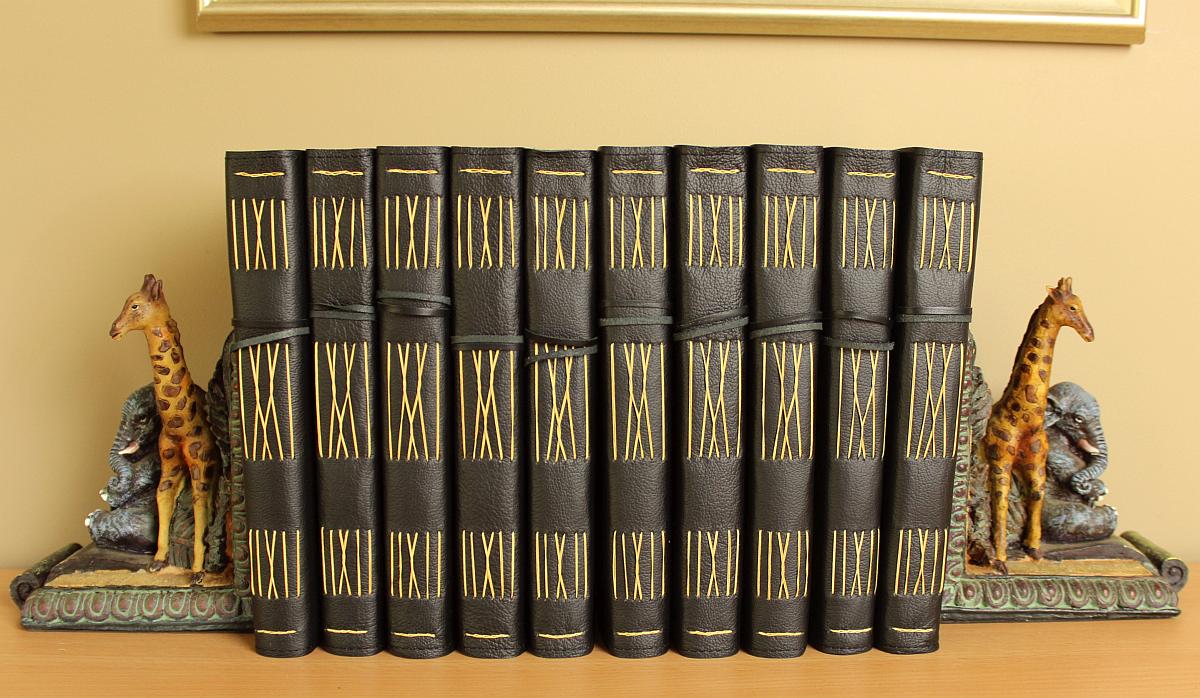 I've been busy in the studio trying to build up my stock of classic favourites.
I hand dye the Antique gold french cotton which creates that timeless elegance when stitched into black leather.
The Chesterfield Range
When my leather supplier showed me his beautiful range of leathers used to make the classic Chesterfield furniture, I just knew that I had to include it in my range.
I have both the Emerald Green and Ruby Red colours. Richly dark with a hint of the undercolour peeking through in the well worn areas of the pieces. I've been learning about the 'rubbing back' technique to reveal the hidden colours, which also gives an old look and feel to the piece. Or the type of much loved look that well used treasures obtain - the patina.
These leathers are available in all of my range: Journals, Book Wraps and Notebooks. I'm still trying to build up the stock to photograph but can certainly make on request. So feel free to email me if you would like something made from these lovely leathers.
Sadly Emerald Green is no longer available from the supplier.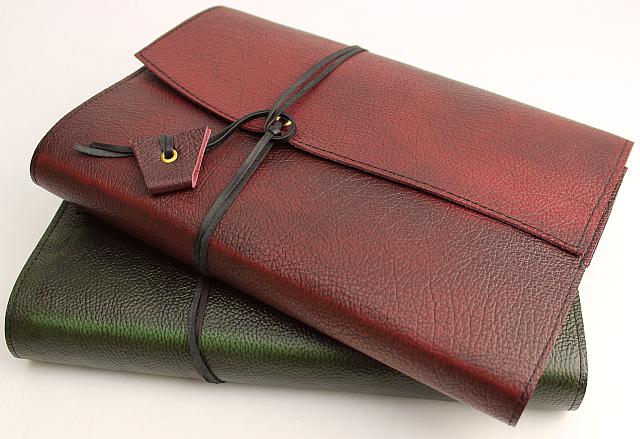 The Aussie Travel Journal Now in Black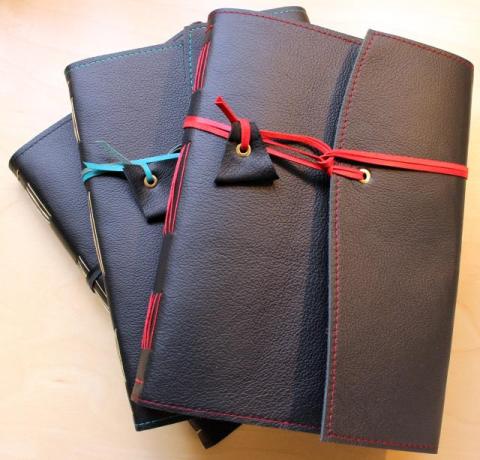 The popular Aussie Travel Journal is now available in three version of Black:
Creating a Journal - A short video
Many thanks to my young and enthusiastic filmmakers - Alex, Giulia and Valmorey who filmed this short video in the studio last week.
MONOGRAMMING IS HERE!!!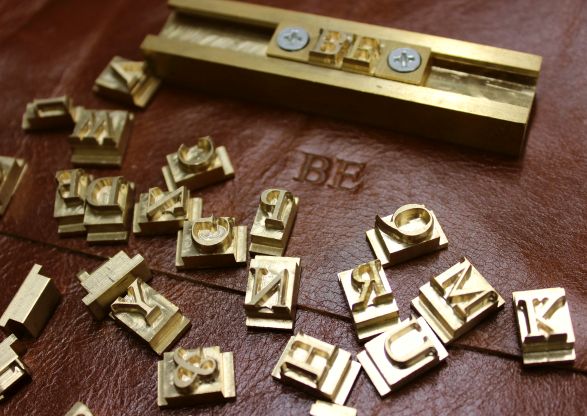 I am delighted to announce that I can now offer monogramming of initials on most of my leather items!
Many of you have been asking and waiting patiently and I've now finally got the equipment in the studio.
Currently offering the beautiful 'blind debossing' - where the gorgeous brass letters are heat pressed into the leather.
Creating a beautiful subtle, elegant and timeless result.
Save
Save
Save
Save
Save
Save
Save