Posted by Beverley on 24th Nov 2019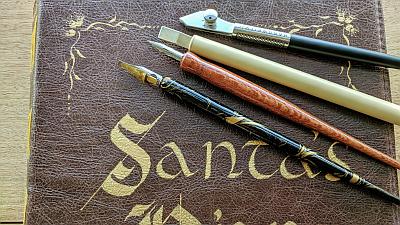 What a fun project to work on and a lovely way to finish 2019.
Let me tell you how it unfolded, and show you some photos of the creation and design process.
It began with a phone call. The lovely young man on the phone was from a media company and they had been searching for the 'ideal' Santa's Diary when they came upon my website. "Was I interested in making Santa's Diary?"
"Absolutely" said I. "What a fun project to explore."
And he suggested that I imagine what I thought Santa's Diary would look like and to send him through a sketch.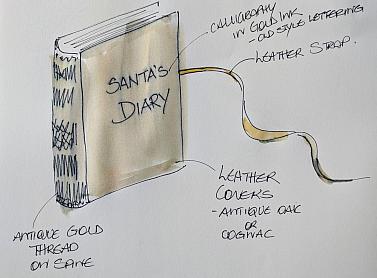 (Very quick sketch for a proposed Santa Diary)
And it all had to be completed within a few days. A very short turnaround time.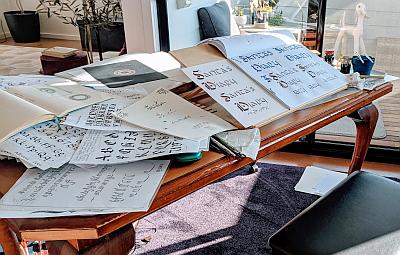 (Designing the Front Cover)
My dining table became a dedicated Santa Station where I could mock up some designs and test ideas.
I wanted it to have an Australian feel, so used gum leaves and flowers instead of holly.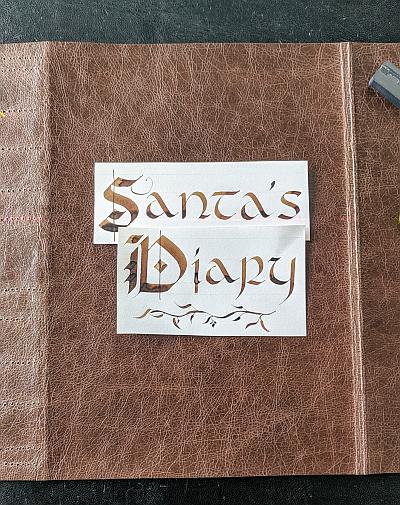 (Testing Lettering positions)
Working on leather means no ruling of lines or creation of guide marks.
So everything had to be done as gently as possible - leaving no tracks!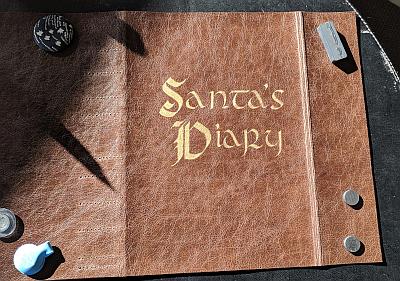 (Holding the Diary in place for writing)
Unlike paper, I could not use tape or fixtures to hold the paper in place while I wrote so I use magnets to hold the leather to a metal based tray.
Then I used a laser light to create a straight guide line. This took much wiggling and jiggling, and manipulating to create the correct heights. And of course to still allow me to see the laser with enough light to write the letters.
And to very carefully work without bumping the arrangement out of place!
(The Gold lettering and decoration is complete)
Writing on leather also means there is no room for mistakes. It is difficult to remove the gold ink without smears. And the metal dip pens leave marks on the leather. And I also needed to ensure that I didn't accidentally smudge the work while the ink was still wet.
So gentle but confident marks are required. As well as carefully tip toeing around wet ink!
And in my case, a lot of holding my breathe.
(The cover is finished and prepared ready for stitching the pages)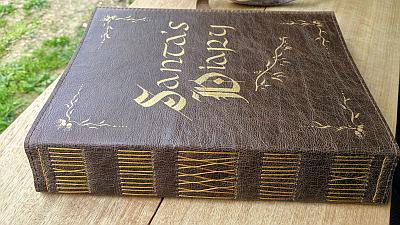 (Pages are stitched with Antique Gold Coloured Thread)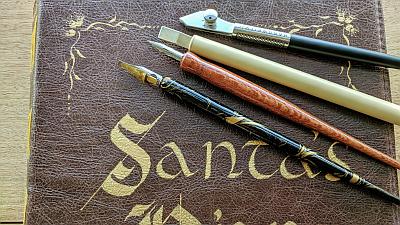 (The pens used to create the cover on the diary)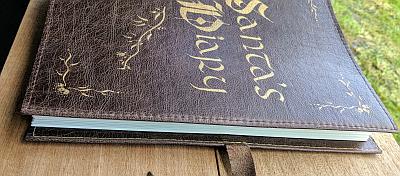 (The leather Diary has exposed end papers and thick long leather strap to wrap around the book)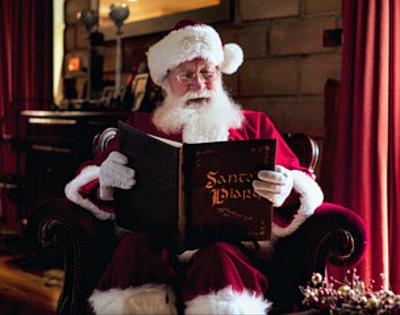 And here it is during the filming, being read by the big man himself.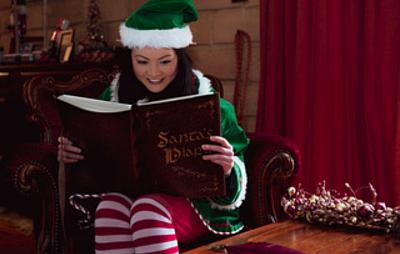 And of course by one of his hard working elves.
Certainly a fun project!